The Baynes family established the Marleycote herd at Marley Cote Walls farm near Slaley in 1932. When others were changing their breed to the Black & White we remained loyal to the breed which had served us so well over the years. Since then we have striven to continue producing high quality milk from a prize-winning herd of Pedigree Dairy Shorthorns and Ayrshires.
"From Moo to You!"
With Northumbrian Milk & Cream, you have our personal guarantee that our product comes direct from the cows to you. If "Food Miles" are an issue to you then Northumbrian Pedigree is the milk for you. In other words "Fresh" means just that!



Follow us on Facebook!
The milking herd currently consists of 40 Pedigree Dairy Shorthorns and 100 Pedigree Ayrshires that are milked twice a day.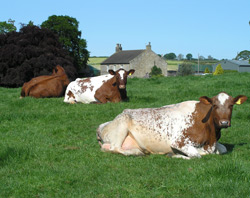 Lazing on a sunny summer afternoon ...
A robotic milking system operates 24 hours a day, allowing the cows to be milked whenever they choose, and the milk is then processed in a new purpose-built building. To see how our milk is produced and used, look at the two short clips, recorded on recent visits, one in winter for the "Market Kitchen" TV programme:
and another for the RSPCA award to the local Feathers Inn, at Hedley on the Hill: